Powder coating gun NordicPulver PRO+ in suitcase
NordicPulver PRO+ powder coating gun is professional powder coating equipment made to be used by professionals and hobbyist users at an affordable price. NordicPulver PRO+ comes in a case and is supplied with a water filter, air pressure regulator attached to the gun and clip on wire connector. Moreover, it comes with 2 spare containers for the faster color change between coatings.

Features:

Simple, but sturdy and reliable design




Fast and easy powder color change

Does not require any additional power supply

Comes with a funnel to fill up powder to the bottle faster and easier

All the spare parts are available for sale



How to use:

Prepare your workpiece by removing all the old paint and degrease it




Spray a workpiece with a powder coating gun using powder of your chosen color

Put a workpiece inside an oven (not included) for 20 minutes at 180 degrees celcius

Once workpiece is cool it is ready to be mounted and used.



How it works:

Powder coating gun works by charging powder particles inside gun using friction between powder and PTFE plastic. After this powder sticks to part by electrostatic charge. This is very similar to dust sticking to the screen of your computer or tv. Powder sticks securely and part can be shaken before curing. This process is different from other processes where powder is charged by up to 100 000 kilovolts to make it stick to part as it produces no orange peel effect that is often associated with powder coating. This process is also safer because of the absence of such high voltage.
Nordic Pulver powder coating oven
Nordic Pulver powder coating oven has been designed, manufactured and built in Lithuania, Europe. It is fully assembled, tested and is ready to use. This powder coating oven with 1300W electric heater reaches 180°C (cure temperature for most powders) in 25 minutes and is capable to reach up to 220°C (temperature used for outgassing). Oven is made out of high quality laser cut galvanized steel sheets packed with 30mm thick high density Rockwool insulation (equivalent to regular 60mm thick insulation). Internal sufaces of the oven are covered in thin aluminium sheets to lower heating up time. The temperature can be controlled using analog thermostat controller and can be set between 0°C – 220°C by a user. It has indicator lamps, which tell when the oven has reached a set temperature.

 Specifications:

110cm x 60cm x 54cm (43″ x 23.5″ x 21″) internal size

1300W heater

180°C in 25 minutes

220°C maximum temperature

30mm thick high density Rockwool insulation

High quality galvanized steel frame

116cm x 75cm x 67cm (45.5″ x 29.5″ x 26.5″) external size

35 kg weight

 

Nordic Pulver oven is a perfect choice for hobby powder coaters or small businesses who lack space in their production facilities and are looking for the professional, durable and trustworthy powder coating oven.

Includes:

Fully assembled, tested and ready to use powder coating oven

Hanger

UK or EU power plug depending on your country

User guide in English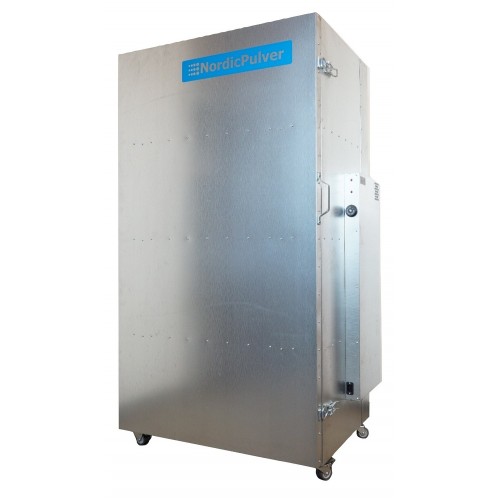 Nordic Pulver powder coating oven / composite oven model XL
NordicPulver model XL powder coating oven that can also be used for composite curing.
Internal size is 160x85x60(57cm where heating element is) cm
Temperature control up to 220 degrees Celsius. Reaches 180 degrees Celsius in 25 minutes and maximum temperature in 35 minutes.
Comes with UK standard 13 amp plug or Schuko plug if you are from another European country.
Requires standard 230V single phase 50 Hz electricity so can be used in any workspace.
Uses just 2800w of electrical power so regular 16amp circuit breakers are sufficient.
Oven weights 100kg.
Oven is made in Lithuania and we provide customer support after purchase and all the spare parts if you need any. Oven is CE marked and comes with a 24 months warranty.
Oven comes with two steel hangers and UK or EU (Schuko) power cable depending on your country.powr