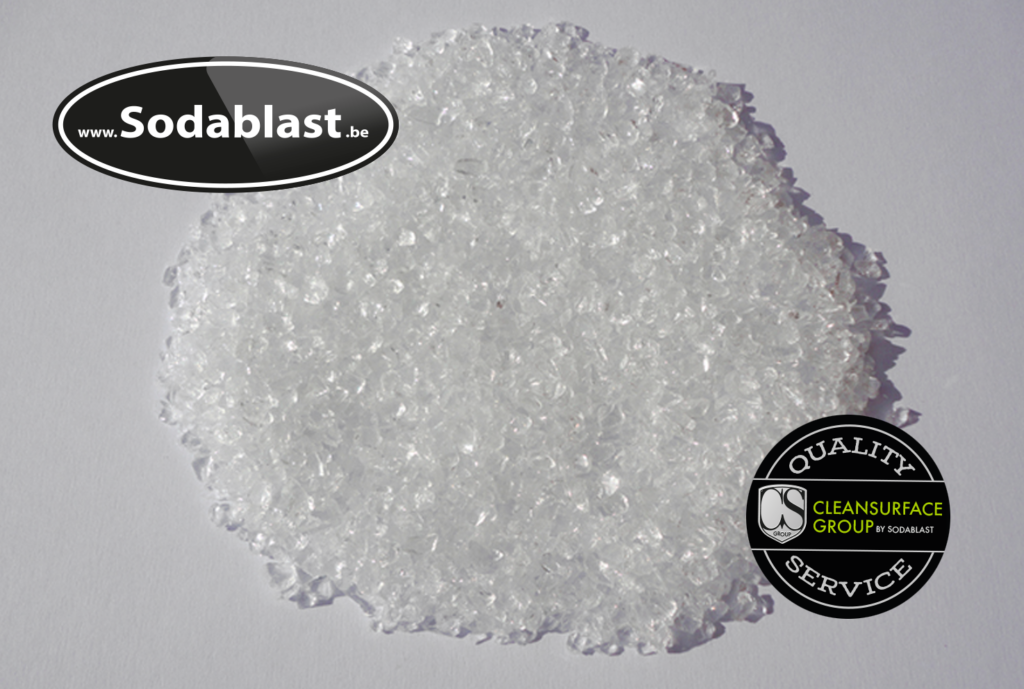 Environmentally friendly, non-metallic and silicate-free blasting media made from recycled glass. Glass granulate is suitable for dry blasting and wet blasting and perfect for restorers.
It is a fine abrasive similar to glass beads but its more rugged and uneven shape makes it more powerful. It removes rust and oxidation and is ideal for removing paint. Glass granulate is chemically neutral and can be used several times. One can do it
also for blasting aluminum and other soft metals.
This abrasive does not generate much dust.
Glass bead is also a non-metallic and silicate-free blasting agent. Glass beads are suitable for dry blasting and wet blasting.
It is frequently used to clean, polish, matt and stainless steel, aluminum and other soft metals, and to reduce the roughness of the surface. It removes light rust and oxidation and provides a satined, smooth surface. Glass bead abrasive develops little dust and is reusable several times.
Plastic granulate is a non-metallic abrasive. It is often used for applications in the aviation and automotive industries. It is not aggressive and very suitable for the controlled cleaning and stripping of sensitive materials without affecting the base material. Due to the sharp-edged surfaces, a product can be gently cleaned, stripped or stripped of sharp edges. Plastic granulate is also suitable for removing the "vesicles" after the injection molding process. It is suitable as a abrasive for multiple use.
A non-metallic, extremely soft and organic blasting material from broken, cleaned and sieved walnut shells.
This abrasive is used in blasting booths. Due to its special properties, nut shells are used to remove contamination without affecting the base material. Often used in cleaning turbines and dies. This abrasive is successfully used whenever the dimensions, geometry and surface condition must not be changed.
Soda blasting media is a natural product, environmentally friendly, non-toxic and water-soluble. Soda is used to clean or strip many different surfaces such as aluminum, steel, plastics, concrete, marble and natural stone.
Soda blasting works quickly and rubber parts of cars and motorcycles do not need to be taped. Soda does not affect the surface roughness of the metal. It is a soft way of blasting and also ideal for outdoor use (blasting buildings and monuments).
GARNET is a natural mineral product known for its natural hardness, durability and abrasive properties. The sub-angular structure of the grains and the very high hardness allow higher speed machining compared to other abrasives. The superior resistance allows the garnet abrasive to be recycled 5 to 10 times, depending on the application. For stripping resistant paints, clearing heavily rusted metals and preparing the surface for treatment.
CleanSurface Group by Sodablast
Jan Van Nuffel
Hannaerden 1a, 9280 Wieze Belgium 
0032 485 088 990 
info@cleansurfacegroup.com
VAT BE 0833.273.847

Stay in touch with us on social media
Subscribe to our monthly newsletter